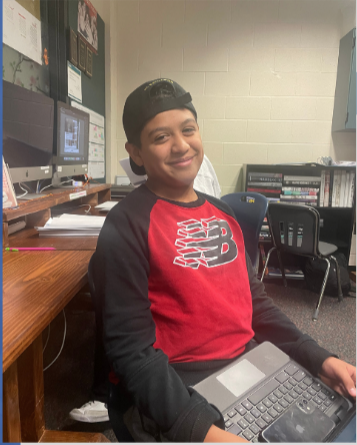 If Luis Jimenez could describe himself with one word, he would use the word,"loud".
However, many of the people close to him would say Jimenez is always the life of the party wherever he goes.
"People say I'm annoying because I can be loud sometimes but I always bring the mood up around my favorite people, " Jimenez said.
One of Jimenez's favorite activities is going to a party. Whether he is at a birthday party, graduation party, a family get-together, or any other sort of event, you will always find Jimenez having a blast.
"I love partying, my dream party would be to have my own Graduation party, I would want all my family there and I would like to have it near a park," Jimenez said.
Even though Jimenez likes to have fun, he emphasizes setting himself up for the future by doing good in school.
"I'm really paying attention in class so I can keep my grades up. I know my future self will thank me," Jimenez said.
Jimenez wants to keep good grades so he can get a high-paying job in the future. He has aspirations to hold a high position in the retail industry.
"I want a high position in retail, I want to be my own boss and manage my own store, it'd be really fun," Jimenez said.
Whenever Jimenez is feeling unmotivated, tired, or going through a rough time, he remembers a saying that his cousin told him,
"My cousin Melqui is my biggest influence, he taught me a lot of things that I will hold for the rest of my life such as don't let any big moment get past you and always brush the little things off," Jimenez said.
When Jimenez grows older, he wishes to travel all over the world and see many new places.
"If I could travel anywhere I would choose Mexico, I want to see the beaches, I heard they have nice things there too," Jimenez said.
Despite only being fourteen, Jimenez has already visited many different states. To list a few, he has been to Puerto Rico, South Dakota, Washington, Florida, Texas, Arkansas, and many more.
"My favorite place that I have visited is definitely Puerto Rico, I liked seeing all the mountains and hanging out with my family there," Jimenez said.