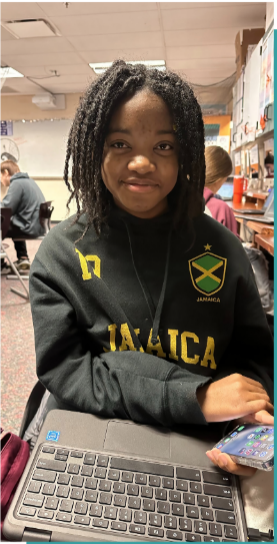 There are over a thousand students at GEHS, but among these thousands of
students, Treynece is a diamond in the rough.
Treynece, an ambitious sophomore and is driven by many aspirations for her future. From pursuing higher education to exploring variouscareer paths, she has a clear vision of what she wants to achieve and is determined to make it a reality.
After school, Treynece babysits her younger sisters. Her stepmother pays her for the work she does. She works the entire school week.
"Every day after school for 2 hours, and on weekends for 5 hours," shesaid.
Treynece is able to work from home and earn money without having to leave her house like a normal job.
"Yes, she used to pay me 200 dollars for 2 weeks but now it's 100 dollars every now and then," she said.
When she grows up, Treynece wants to be an interior designer.
"I took the class and it was interesting and fun, and I can make a lot of money," she said.
Treynece has not been involved in any extracurricular activities or clubs at school.
"I was in the diversity club but left because of drama and it was unorganized. I'm not interested in joining another club," she said.
When Treynece has some downtime, she enjoys relaxing and getting on her phone to scroll.
"I like to scroll on Pinterest and Depop," she said.
Also during her free time, Treynece likes watching her favorite TV shows and movies on Netflix.
"Heartbreak High on Netflix is really good, there are a lot of twists and stuff," she said.
Treynece has set her sights on attending college after completing her graduation.
"Yeah, maybe KU, somewhere I don't have to live with my parents but I can still visit them," she said.
Treynece is a curious and dynamic individual with a lot of interests.
Treynece is a determined and hardworking sophomore who has a clear vision for her future. Although she is busy, she manages to earn money from home without leaving her house.
Treynece is passionate about interior design and aims to get a job in the field. During her free time, she enjoys relaxing and scrolling on her phone.