Trowbridge Strengthening Students for Success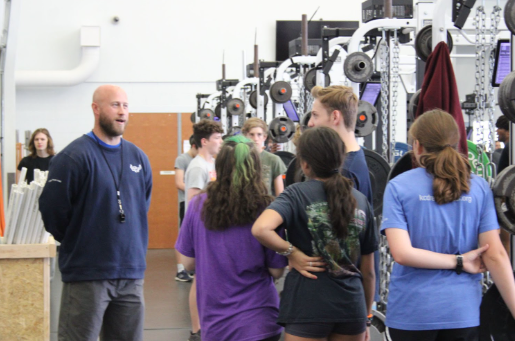 Coach Riley Trowbridge is one of many Strength and Conditioning coaches. Trowbridge is well-known by students as a great coach. He has a few core values when it comes to coaching.
"Hard work, pride, and passion," Trowbridge said.
Summer is right around the corner. The strength and conditioning staff is offering a summer weights program to all students. According to Trowbridge, everyone should join this program and one of his goals for this year's program is to increase the number of students participating.
Trowbridge is very excited to kick off summer weights and has a few things he is excited to see.
"Seeing all the kids from middle school to our seniors and seeing them progress as the summer goes on," Trowbridge said.
For all students that participate in powerlifting, Trowbridge has some ideas for the off-season.
"Stay in the weight room in summer, fall, and get into off-season to prepare for powerlifting," Trowbridge said.
Trowbridge directly impacts students in multiple ways.
"[By] creating opportunities for students to get into the weight room and experience the ups and downs of the weight room," Trowbridge said.
Although most students only know Coach Trowbridge as a coach, he didn't always want to be a coach.
"I wanted to be a firefighter and then I didn't like that or love it so I wanted to do this," Trowbridge said.
Trowbridge doesn't only teach lifting, he actually does it. He enjoys lifting a lot and has a few favorite lifts and workouts.
"Back squat, power clean, and pull-ups," Trowbridge said.
A colleague of Coach Trowbridge, Ryan Lonergan, shares what it's like working with him.
"Coach Trowbridge is fun to work with [and] takes his job seriously…he cares about the kids… and is a good guy to have around," Lonergan said.
Trowbridge has been lifting since high school. He ended up really liking it and he lifted a lot as a high schooler.
Trowbridge shares the reason behind why he became a weights coach.
"I wanted to give students the same experience I had when I was in high school… being challenged, being put in a position to fail, and then put into a position to succeed, and [given] the tools you need to succeed," Trowbridge said.
This year there have been multiple changes in the weight room. One change that was very big this year was the different strength and conditioning classes.
"We added different classes levels one, two, and three for our students, so level one is freshmen, level two is sophomores and juniors, and level three is seniors. It gives them an opportunity to advance as they get older," Trowbridge said.
Clara Schneller shares her experience with the weight room and coaching.
"It's made me better because he's been pushing me and I have been able to get stronger through the weights program… It's also helped me be in the community of sports," Schneller said.
Schneller states what Trowbridge's coaching style is like.
"He's strict but it's rewarding because we get to see results quickly because of his coaching," Schneller said.
Another student, Crue Lucas, shared his opinion on weights. He said that the class is fun and offers good opportunity.