Feeling Optimistic For New Baseball Season
With a few games down, the baseball season is in full swing. All of the coaches and players are ready to take on the new season in hopes of taking their team to state at the end of the season. 
"We've got a long season ahead of us and we're looking forward to it,"  Coach Schrack said.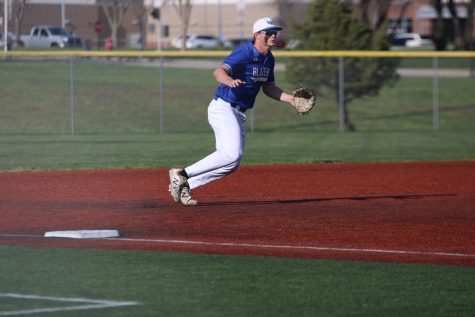 Schrack said baseball has always been a part of his life.
"I grew up in Western Nebraska and baseball has been a huge part of my life," Schrack said. "That's what we did growing up since there wasn't a whole lot to do."
To start off his career, Schrack saw older kids he used to play baseball with while growing up become coaches, and that sparked his interest to become a coach himself.
"My first gig was a volunteer position at Lincoln Southeast High School in Lincoln, Nebraska," Schrack said.
He continued coaching and eventually got an assistant coaching position at the college level for a while, then went back to the high school level.
"I'm approaching about 20 [years], maybe 20 plus overall," Schrack said. "I've been blessed and very lucky to still be in the game and enjoy every moment of it."
The whole team is working hard and trying to get better as a team to win as many games as possible in hopes to make it to state at the end of this season.
"There's no doubt [they'll make it to state]," Schrack said. "Our goal is to get better each day." 
After graduation last year there were a lot of open spots, meaning a lot of new players on varsity. 
"I see improvement with everybody when you give good effort and you have a passion for the game and you want to improve and get better," Schrack said.
Seniors on varsity this year include Austin Buie- who signed with Central Missouri University, Grayson Wroten – who signed with Highland CC,  Eli Jenson, Dawson Williams – who signed with Cowley CC, Mitch Mauk – who signed with Western Missouri University.
"Three of those guys have varsity experience. Buie, Williams, and Mitch," Schrack said.
When asked about how the team handled leadership, Schrack explained how the seniors tend to help with leadership for the underclassmen.
"We lean on those guys for leadership, but, you know, the other two seniors have stepped up and done what we've asked them to do," Schrack said.
This year, a freshman was able to score a spot on varsity. 
"We do have a freshman that's going to be playing varsity, his name is Baylor Vesey,"Johnny Hodges, another coach on the team, said.
Baylor Vesey is a freshman at Gardner Edgerton high school who plays second base on both Junior Varsity and Varsity baseball this year. He has been playing baseball for as long as he can remember. 
"I've been playing ever since I came into this world, it was like I was made to play baseball," said Vesey.
Before he played for the school Vesey played on two competitive teams that made him the player he is today.
"Back in the day I played for KC Crush," said Vesey. "Then I went on to play for Building Champions which is where I play when I'm not playing for the school."
Even though being the only freshman on varsity can be a lot to handle at times, he enjoys it and likes his team.
"I like it, all the other guys are nice and funny and give me rides when I need them," said Vesey.
One day he hopes to follow his dreams of playing for the St. Louis Cardinals. Vesey looks up to star player Roc Riggio. And every time he puts on his cleats he hopes to make his family proud.
"I hope to make my pops and grandpa proud, and my dad, I guess my whole family overall, love you, grandma and grandpa," said Vesey.
Hodges expressed his thoughts on Vesey playing for varsity on March 23.
"We do have a freshman that's going to be playing varsity tonight. His name is Baylor Vesey. He's going to be pretty good," said Hodges.