Idaho Murder Investigation Continues
On the morning of November 13th, 2022, four college students were murdered in their Moscow, Idaho home. Best friends Kaylee Goncalves, Madison Mogen, and couple Xana Kernodle and Ethan Chapin. The morning began on November 12th, around 1:40 a.m. when Goncalves and Mogen went out and were seen at a food truck on a security camera. They were seen leaving the truck with a young man who police say is not a suspect. The two arrived home around 1:45 a.m. During this time, couple Chapin and Kernnodle were at a party at the fraternity Sigma Chi. They also arrived home around 1:45 a.m. A couple of hours later, around 4 am Kernodle received a door dash order and went out to get it. 
One of the two surviving roommates said she woke up and heard what she thought was Goncalves playing with her dog. The roommate opened her door around 4:12 a.m. after she heard someone say something along the lines of 'there's someone here.' The roommate said that she looked outside her door and did not see anything. She opened it again shortly after and heard what she thought was crying in Kernodle's bedroom. She said that she heard a male voice say, "It's going to be ok, I am going to help you." She then told police she opened her door a third time and was 'frozen in shock' at the sight of a tall male wearing black clothes and a mask. The roommate described the individual as a 5'10 male with bushy eyebrows. A couple of hours later around 11:58 am, a 911 call was made by a friend of the victims about a wellness check as they thought their friends had passed out. All four victims were found shortly after the police arrived dead in their rooms.  After the first initial investigation, many believed that this case would go cold, due to the lack of evidence and a murder weapon. 
"This case is not going to go cold," James Fry, Moscow Police chief said. "We have tips coming in, investigators interviewing people everyday, and are still going over the evidence." The families of the victims and their friends have not lost hope, but are afraid the case will go cold. 
"It's going to be a cold case if we don't do anything in a week or two," Steven Goncalves, the father of Kaylee Goncalves said. " I respect the need to hold some information but is frustration with the lack of communication from the police."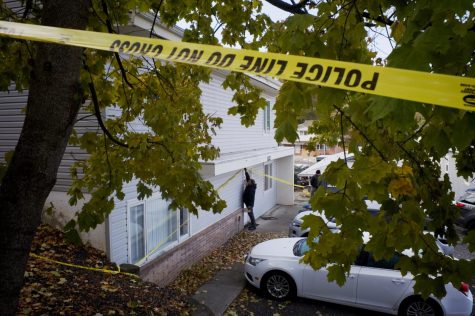 The friends and family of the victims are all wanting justice for their loved ones. Early on in the case, the two surviving roommates were ruled out as suspects. On December 30th, 2022, police took 28 year old Brian Kohberger, the main suspect, into custody for the quadruple murder and burglary. Kohbergers DNA was linked to the crime scene. His white Hyundai Elantra was seen driving very fast and on a gas surveillance camera. He drove to his parents house and was arrested at his home. Kohberger was shocked, according to his attorneys. Public Defender Jason LaBar told People Magazine, "He's willing to waive because he's looking forward to being exonerated," LaBar said. "Those were his words. Whether that means he's innocent or not, it's implicit in saying he wants to be exonerated that he's innocent. He didn't use the word 'innocent.' Kohberger is having his next court hearing will be June 26, 2023. Families and police are happy that they have a main suspect in custody. 
"Obviously they're relieved someone has been arrested," attorney Shanon Gray said. "You guys know about just as much as we do right now." Currently, the case is still an ongoing investigation. Please respect the families, and friends of the victims as they go through this hard time.