Finals Return After 3 years
StuAfter 3 years, finals have returned for the 2022-2023 school year.  
"I think they are important for a couple of reasons," Michael Simpson, assistant principal said. "They allow us to wrap a bow on the semester and it takes all the information that you learned and allows you to put it away and show what you know."
Finals are the final projects or tests that you take at the end of the semester. They have not been around since the first semester for seniors their freshman year. 
"I personally am a bit disappointed to see finals return," Sarah Farrens, senior said. "I get the point of preparing for college, but we have got through the past 2 years fine without them."  
The decision to bring finals back was not the school's decision, but the Johnson County district made the decision to not allow finals in the 2020-2021 school year. 
"There were decisions made at the district level during the pandemic level," Simpson said. "The decision was to do the school year like a normal semester without the finals schedule and not bring finals back."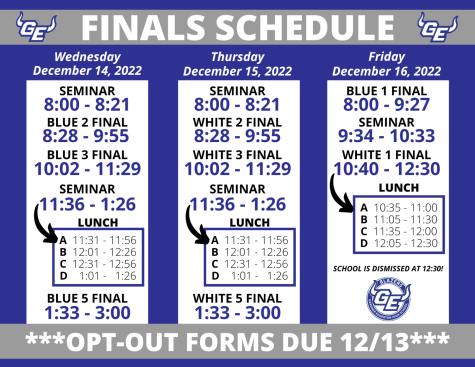 Many teachers believe finals are important and allow you to be successful in your classes. 
"The big thing with finals is that it teaches you how to prepare for something that is coming," Brittney Baker-Delaney, history teacher said. "It helps you prepare for jobs and stuff in the future."
The finals allow you to prepare for the future and are designed to help you succeed. 
"I think that there are lots of things in life that you have to prepare for to end something," Simpson said. "I think that's another part of what it is about."
There are also class finals that you are allowed to opt out of if you reach certain criteria. You are allowed to opt out of 4 of the 8 classes you have with 2 core classes and 2 electives. 
"If you have a 90% in the class and have 3 excused tardies or less, 80% in a class and 2 excused tardies or less, or a 70% in a class and 1 excused tardy you are able to opt out," Simpson said. 
However, if you are enrolled in honors or AP (Advanced Placement) classes, you may not opt out. 
"Johnson County and Advancement Placement require us to make you take the final," Simpson said. "If you are in an honors course, you are assumed to be good in the subject." 
There are many ways to prepare for finals that have helped students in their finals. 
"Figure out what classes you are going to opt out of and ones you're going to take," Farrens said. "Slowly start studying and ask the teacher for advice, prepare one week to two weeks in advance." 
Other ways to prepare are simply taking care of yourself during this time. 
"Get a good night's sleep and try not to stress," Simpson said. "Get up like you normally do, eat a good breakfast, and go take your tests." 
Finals will be on December 14, 15, and 16th and will end the semester.