Forensics Coach Jeffrey Cramer takes over the Debate Team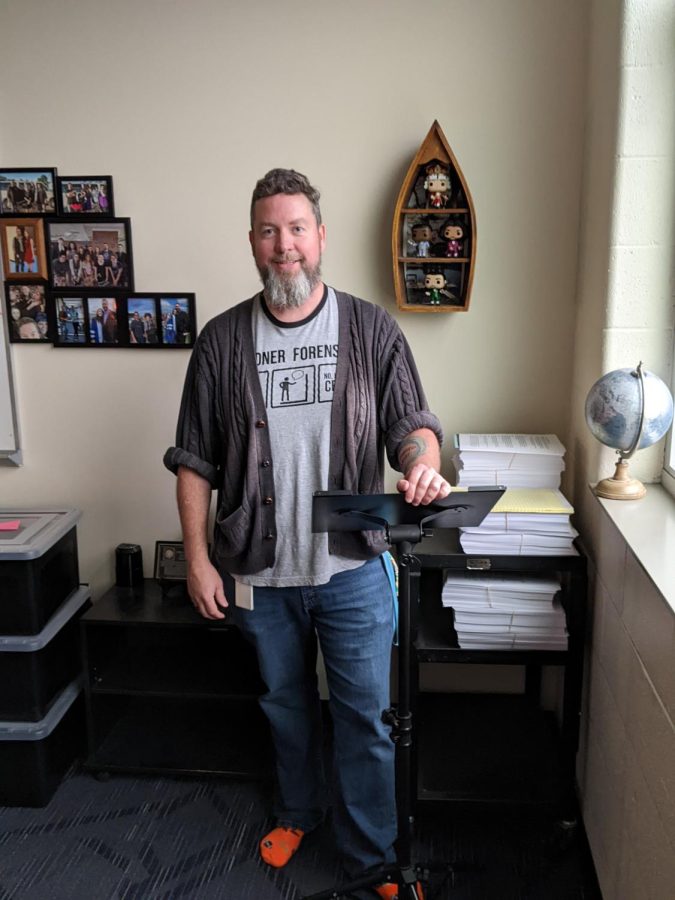 Jarrett Reiter , Reporter
Nov 29, 2022
Jeffery Cramer, Forensics coach, is in his seventh year teaching and coaching forensics. However, since Michael Zegers retired last year, Cramer was chosen to take over the debate team this year. 
"It's a different challenge, so it keeps me on my feet. It's been a lot of fun. Once again, it was kind of like starting over, but because I've been in the school for six years prior to this year, a lot of them already knew me, so it wasn't as hard of a takeover, but the team's growing and we're all kind of getting there together, so it's been kind of nice." Cramer said. 
When Cramer was coaching forensics, he had students who couldn't complete a speech smoothly. He was able to help them up and make them thrive. 
"Most notable was I had a freshman first year that couldn't even get through a speech without crying just like broke down. Like, was very upset. By their fourth year, their goal was to get to state, so they had a lot of growth there. Other moments are the first time we got a sweepstakes award as a team just to see the team-wide up and know that they had accomplished that and then to continue to see growth going with that." Cramer said. 
When Cramer took over the debate team, there were moments such as the team winning their first sweepstakes trophy that year. However, Cramer offered a challenge to the debate team during the first moments. 
"Debate team this year had one student last year, when they heard I was taking over, said they were gonna win me my first sweepstakes trophy for the team, and he actually did that at his first tournament, so that was kind of a fun moment," Cramer said. "Also, I gave them the challenge, I explained when I took over, they didn't sign up for debate with me, so it was their chance to leave and if they stayed, we'd expect a high level from them and they've all given me that high level that has stayed and of course no hard feelings to those who left. I understand sometimes you signed up for a class for the teacher, not the class."
Cramer has helped students have a stronger and greater presence in their speeches. Some students even became something that no one expected.
"I think kind of what I've enjoyed is that there are some kids that you wouldn't think, especially in forensics, would-be actors that have really embraced acting and there are some kids that you would have never thought would have given speech-making a chance and they've become much better at it and actually enjoy doing it simply because he's worked with him on so many different events." Deb Osborn, Cramer's assistant coach, said. 
The teams aren't always serious. From time to time, they come together to just have fun. The team will sing songs when they're driving in the vans for fun. Cramer lets it happen and even formed a tradition from one of the chants. 
"I think the funniest is one of my first years, just taking a group out in the vans and we're driving and somebody was talking about food in Louisiana and talking about animals and within five minutes the group was so energetic, they started a chant that we kind of rolled with for about two-three years, which was the 'alligator possum were the most awesome corn and wheat were the team to beat. It was silly and ridiculous but it really made the team kind of have more fun, and they really kind of enjoyed it. I think other than that it was probably singing on a field trip we took where we all sang Mariah Carey." Cramer said.
Cramer may be in charge of both the debate and forensics, but that gives him a chance to improve public and argumentative speaking for the students. 
"Just that I hope that the students realize how lucky they are that he is so willing to give of his time and his energy because he really wants to see them be successful and I would say, I enjoy helping him out and being his assistant coach and all the conversations that come along with that," Osborn said.