Marching Band Travels to Neewollah
The Marching Band received perfect scores at the competition in Neewollah.
For the last 100 years, Independence Kansas has held the Neewollah festival. There are games, rides, activities, hay rides and more. The Blazer marching band traveled to compete in the competition and the parade for the last 5 years, not including covid. This year on October 29th, the band competed again at Neewollah for the 6th time. 
"If I were to compare last year's show to this year's show," Will Biggs, band director said, "This year's show is better because the story is executed better."
Every year, the band goes and competes and has a good time with all of the activities. 
"I think the best part is the fun atmosphere," Biggs said, "It is a celebration of all the bands and it's a lot of fun to see different types of schools perform."
The band last year competed very well, ending their performance with a 1 rating; the highest score that you can get in marching band competition. 
"Last year we came together with a solid performance," Nate Wilson, senior drummer, said. "It was really great to see how far the band had come because at ESU (Emporia State University) our performance was not even a full performance." 
The band has a fun time with everyone and even though it is a competitive place, there's always time for fun with all the other bands.
"The time before the awards and after all the bands have performed is the best part," Wilson said. "The festival people open up the field to all the other bands and we just run around and play games together, it's a great way to meet other schools." 
The school marching band has always been a tight knit group, everyone is close with one another and always lifting each other up. 
"I have made close friends in a band that I would have not known otherwise," Josie Pemberton, junior woodwind leader said. "The whole band supports and celebrates
each other's achievements and it is a great supportive community."
As the marching band season begins to end, there have been multiple people who have excelled exceptionally this year one being Caroline Kuzma.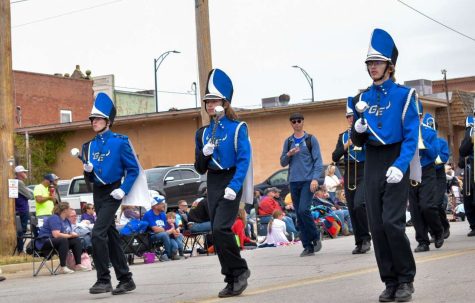 "The first one that pops into mind is Caroline Kuzma," Biggs said, "She is one of our flute section leaders and has been a rockstar."
The Drum Majors are a special part of the band, being that they help the band flow and perform to their very best by controlling the tempo. 
"It has been different," Leo Schranz, senior drum major, said, "It is a lot of fun being in charge and having a say in what goes on in the band and their performance."
Young freshmen have had a great first year, with a good group of underclassmen having an amazing season. But, as some freshmen's years are beginning, others are ending. 
"It feels really crazy and surreal," Wilson said, "It feels like yesterday that I was at my first summer band camp learning all the marches and marching band instruments and it is honestly crazy." 
The senior band members have had a great last couple of years, with both ups and downs and all the fun memories. 
The band this year had an amazing performance, ending with a score of 1 for their parade performance and a 1 for their field performance and having one of the bands best performances and scoring yet. They also were able to win the People's Choice Award during the festival as an audience favorite.