Kelli Baker and Choir says Bye, Bye, Bye to Head Janitor Joe Cibulski on his Last Day
Friday, September 9 was lead custodian Josef Cibulski's last day at GEHS. Many recall him as a kind individual who made everyone feel welcome, which prompted affiliates Robin Schrack, Kelli Baker, and John Yockey to pay a farewell tribute. 
"I started teaching at GEHS in 2016 and I came from Pioneer Ridge where the whole staff was really, really close and so it was very hard for me coming to Gardner Edgerton High School with such a huge staff," choir director Kelli Baker said. "Joe was one of the very first people who walked in a room and welcomed me and talked to me. He [just] made me feel so welcomed and valued."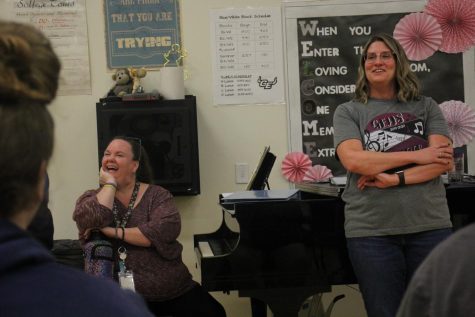 As she adjusted into her role at GEHS, Baker became closer to Cibulski. Throughout her time at the school, he made a significant impact on her career.
"He is someone I can 100% be myself around. In a work environment it's so important to find people that you love who will support and listen to you in who you are and not what you teach," Baker said. "So many times as teachers we get put into a box of what we teach and not actually who we are."
Following her friendship with Cibulski, Baker also touches on fond memories she has of him with her son. 
"Anytime my son Bryson would see Joe after school, he would drop his backpack and start sprinting to Joe and jump into his arms. Watching that friendship and seeing how special Joe made Bryson feel is going to be a special memory for [all] of us," Baker said. 
The week of his leaving, Baker got together with Robin Schrack and John Yockey to organize a farewell tribute for Cibulski. They eventually set in stone that the Treble Jazz Ensemble would learn choreography to NSYNC's hit song "Bye, Bye, Bye" to perform at D lunch on September 9.
"We asked Joe's wife what some of his favorite songs are and she mentioned that he really likes NSYNC," Baker said. "Our first thought was [that] 'Bye, Bye, Bye' was super appropriate because he was leaving. It's fun to be able to give him a hard time about leaving even though it's on good terms."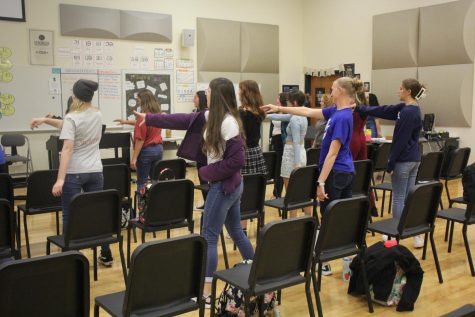 Treble Jazz Choir and some members in Blue Blazers performed in the flash mob during D lunch on Friday, September 9.