Girls Cross Country Team Grows in Numbers
This year, the girl's cross country team is the biggest the program has ever seen. Last season, the team had a total of nine girls, not even enough to fill a junior varsity team. Currently, there are enough girls to have a full varsity, JV, and c team, with 29 girls in counting.
"I am so excited we have so many girls coming out to the team," assistant coach Christiana Kromminga said. "I am just really excited about our girls' team because, in the past, we haven't had as much depth."
This year, 19 new freshmen have joined the team, with 8 freshmen on Varsity and JV.
"It's really cool," freshman Landri Schaffer said. "I love the experience and I can't wait for the rest of the season to come!"
There are many big goals for the girls team this year, and for years to come. The biggest goal is to get the girls team out of the regional and qualify for state. 
"A team to the state would mean so much more to the program, and I really hope this is the year," Kromminga said. 
With the new talented freshmen, state looks more promising. Coach Walt Cochran also has goals that have already been fulfilled.
"I want to have training groups, I want the girls to work hard and to love the sport,
and just get to embrace the cross country culture," head coach Walt Cochran said. 
Faster girls also bring more competition.
"The girls have something to work for and actually have to fight to keep their spots and fight to get varsity spots," Kromminga said.
The competition of the girls team has changed drastically in past years. 
"I think there are more competitive girls this year," senior Sarah Farrens said. " I think in past years there has been competitiveness in only three to four people but this year, there is through varsity and junior varsity." 
Cross country is known for not having "cliques" and being a family sport,  but with more people joining, some members suspect this could cause the team dynamic to shift. 
"Personally right now, the team feels more distant than last year," Farrens said. " I think it is going to take time to form relationships mainly because last year our team was smaller."  
Many freshmen have said that highschool cross country is much different than middle school cross country. With the new freshman on varsity and a few upperclassmen veterans, the coaches have a couple of girls in mind that they believe will excel in the program this year. 
"Sarah Farrens is running really well right now, she is our top female runner," Cochran said. Sarah suffered from multiple injuries over the past couple of seasons, so coaches are hoping she has her breakout year. 

Out of the new talented freshman, coaches have a couple of girls in mind.
"From our upcoming freshmen,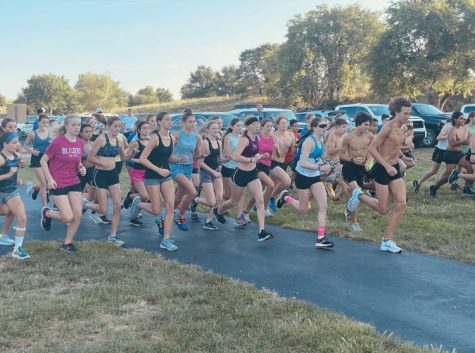 Makayla Cox, Laudri Schaffer, and Olivia Walion," Kromminga said. 
With Makayla out for injury currently, coaches are hoping to get her back on the varsity team. These 3 girls had outstanding time trails and will be on the varsity squad. Cochran has made it clear that his stakes are high with the goals for the girls track team. 
"I have a feeling that I will be coaching many distance athletes," Cochran said. "Having girls run from the 400 to the 3200 is just you know getting into groups, plan training cycles that will allow them to perform the best they can in their events." 
This year, or in years to come, Cochran believes that the distance girls will qualify to state and have incredible performances. The girls cross country team will have a meet at the Olathe District Activity Center on Saturday, September 10th.