D.A.N.G. Club Takes Off
GEHS's Diversity and Inclusion Group begins having regular meetings and begins to grow popular amongst students.
Amara Whited, Kaila Burnside, and Nicholas Belcher
Feb 7, 2022
The D.A.N.G. (Diversity and Inclusion Group) Club was created by overlapping GSA and other diversity groups like Black Student Union (BSU) and Hispanic-American Leadership Organization (HALO) with the intention of creating one large, diverse, and multipurpose club. Many schools usually split into groups for black students, hispanic students, and other marginalized groups, but GEHS takes a different approach. 
"Whenever you have separate clubs, that promotes more segregation than it does inclusion," D.A.N.G. sponsor Jonathan Green said. "[It's] very intentional."
Green sees a benefit to the diverse group rather than a drawback. There was originally only a GSA (Gay-Straight Alliance) club with little to no intentional room for other marginalized groups. With D.A.N.G., it creates a space where there is never too little space for anybody.
"Mr. Green and Ms. Gehrt had applications for the board…to put several of us in leadership positions," junior and Community Outreach Director of D.A.N.G. Elizabeth Fiedler said. "We're the ones that primarily direct where the club is going."
The club has a student-run board system. The D.A.N.G. Club has two sponsors: Mr. Green and Ms. Gehrt, along with executive board members Kirsden Collins, Amajae Glover, Avery Gates, Aaliyah Moss, Felix Kester, Elizabeth Fiedler, and Kaylah Newman. These students are handed the reins of the group and take charge.
"We're talking about LGBTQ issues," Fiedler said. "There's some limitations to what we can do right now with COVID and doing more with the community, but in the future, I think that's where we're really headed…to not only work in our school but in our community."
The goal overall is to learn and to hear about others struggles.
"[It's] a really supportive environment where all of us can learn on topics that can be kind of uncomfortable," Fiedler said.
No topic is out of reach for D.A.N.G.. The student board members don't shy away from topics that may make people uncomfortable.
"We'll have talks about Black Lives Matter and cultural identity… really important subjects that people should be aware of," senior and marketing executive of D.A.N.G.  Kaylah Newman said.
The road hasn't been smooth for D.A.N.G., but the students and sponsors involved don't back down from a challenge.
"There have been challenges, but I think the important part of hitting those challenges is being able to overcome those challenges," Green said. "It's been an achievable process to overcome any of the obstacles we face."
Disagreement and discussion is an important part of the group, even encouraged by the sponsors and board members. Although not a major meeting mainstay yet, the board members see only a space to grow.
"With us being new, that's only a place for us to grow, and I think we're going to grow in the right direction," Newman said. "People are going to start asking questions because they're going to feel like this is a safe environment that we've created."
D.A.N.G. has ambitious goals for the future.
"We're planning on coordinating with the GSA to advertise both of our clubs simultaneously, because we do want to work with a lot of the different groups to expand our outreach," Fiedler said. "We will have a table [at lunch] set up side by side."
With D.A.N.G. being a group which in part represents racial diversity, Senior Brett Jackson decided to investigate diversity in our school and created a board in collaboration with the Geography Club, displaying a world map covering the topic of 'Where are You from?'
"I started out thinking it would be important to include something about where our students came from and what their cultures were," Jackson said. "So I thought it would be interesting to put a map together of exactly where our students here are from around the world."
The map, (pictured below) is pinpointed with tacks representing the country or state students are from. Jackson gathered info from asking students and friends, and communicating about the project.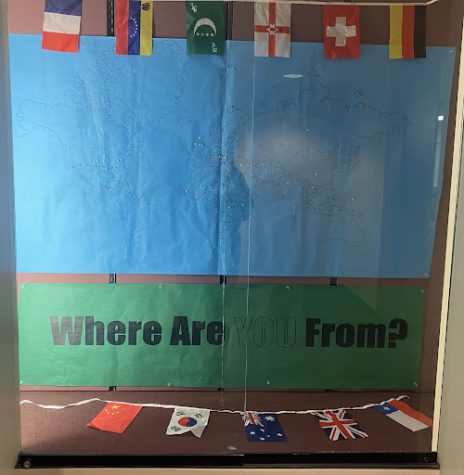 "It really does stretch out every corner of the world even though it might not seem like it." Jackson said. "I just wanted students here to get a gauge of exactly how diverse the school is."
This recognition of diversity in our school is being represented more and more from projects like this and the assembling of clubs like the D.A.N.G.. These pushes for the recognition of diversity and social inequalities have been happening on a local and national level. 
"Especially starting with this project, it's going to bring to mind a lot more about the culture of our students and just how diverse, not just our school [is], but really the whole community of Gardner and Edgerton and I think that's gonna be very important moving forward," Jackson said.