Local Banks Help Fund AP Exams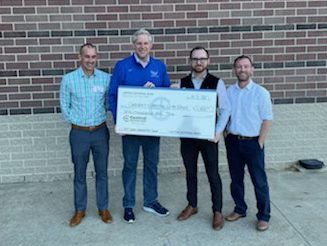 Thanks to a $1,000 donation from Gardner Central National Bank, some students will be able to reduce the cost of AP exams this year.
"This huge gift means any student in an AP class who wants to take an AP exam (and potentially earn college credit) can do so without financial worry," Mrs. Shannon Carriger, AP English 11 teacher said. "This opens doors for so many students who would otherwise not get the opportunity."
The exams without financial aid cost $96, and some students are enrolled in multiple classes, making the price double or triple.  With this donation students who previously couldn't take the exam due to the price now can take it. If a student receives a passing score on the exams, they are able to earn college credit.
"For me, it starts with the students," principal Mr. Frank Bell said. "This is a great celebration that a lot more students will have the opportunity now to participate in something that is really important to set them ahead."
This funding opportunity for the test was spearheaded by a new committee of teachers known as the Fun(ds) Finders, one of 12 action groups teachers are participating in this year. The Fun(ds) Finders consist of Mrs. Shannon Carriger, Mr. Tyler Cordts, Ms. Julie Gillette, Mrs. Meg Hunting and Mrs. Robin Schrack.
"This is especially important to me. I have taught AP for nearly ten years and have seen capable students miss the opportunity to take AP exams for potential college credit simply because of financial concerns," Mrs. Carriger said. "As someone who is still paying off student loan debt in my forties, I am committed to working to make college more affordable for students in whatever way I can."
The Fun(ds) Finders are continuing to seek additional donations from other local banks, and have some verbal commitments, meaning they expect more community partners to pitch in.
"There is a celebration beyond the students and that's to the staff members that made it happen…they're the ones that made this happen, and I'm grateful to that group of teachers that went out and made it happen," Mr. Bell said.
"
This is a great celebration that a lot more students will have the opportunity now to participate in something that is really important to set them ahead."
— Mr. Frank Bell, principal