Red (Taylor's Version) Review
Olivia Steele
Nov 14, 2021
Thursday night, Taylor Swift released the long-awaited re-recording of her fourth studio album, Red, now renamed to Red (Taylor's Version). The album featured the original nineteen songs featured, as well as ten songs that were not released with the original master.
"Musically and lyrically, Red resembled a heartbroken person," Swift said in an Instagram post when the album was announced on June 18, 2021. "It was all over the place, a fractured mosaic of feelings that somehow all fit together in the end. Happy, free, confused, lonely, devastated, euphoric, wild, and tortured by memories past."
I listened to the album as soon as it came out and was up until 2 am that night taking in every new and old lyric and making comparisons with her voice at 20-22 versus her voice at age 31. For someone who has always ranked Red at being the eighth best out of her nine albums, this re-recorded version made it jump to number two. Maybe it was because I never quite understood it growing up and that translated into me just deciding it was a bad album or maybe I just never listened well enough, but either way, Red (Taylor's Version) is a new favorite album of mine.
Songs like "Sad Beautiful Tragic," "Everything Has Changed," and "The Last Time" all became new favorites. I was never a fan of them growing up, but after listening to them with a more mature understanding of her songs I can now happily say that they helped bump the album's ranking up on my list. Since the album's release, I have listened to those songs nonstop. What I also love about this re-recorded version is that she still kept the same collaborators on the project, much like she did with Fearless (Taylor's Version).
"
"Musically and lyrically, Red resembled a heartbroken person. It was all over the place, a fractured mosaic of feelings that somehow all fit together in the end. Happy, free, confused, lonely, devastated, euphoric, wild, and tortured by memories past."
— Taylor Swift, June 2021
Also much like Fearless (Taylor's Version), the album kept the same nostalgia that was in the original. Despite me not being a fan of the entire album growing up, there were individual songs that I adored and still love today; especially "Red." I don't know how Swift did it, but listening to the re-recorded version of this song felt like I was 8 years old and listening to it for the first time again. It was such a surreal experience to be listening to my favorite childhood song, close enough to the original to be familiar but unfamiliar enough that it sounded almost new. I cried listening to this song because of how genuine the feeling was of being a kid once again and listening to this song. That has to be the best song on the new version of Red — if we're not including "All Too Well"'s ten-minute version. 
"All Too Well" already was an emotional song. Five minutes straight of the best breakup song of all time, taking hit after hit on Jake Gyllenhaal. Already, that was a harsh song for Gyllenhaal to listen to, probably. But TEN MINUTES? Ten harsh minutes of pure hatred towards Gyllenhaal with lyrics such as "I'll get older, but your lovers stay my age," "You kept me like a secret, but I kept you like an oath," and "They say 'all's well that ends well,' but I'm in a new Hell." Her beautifully crafted lyrics describe the feeling of heartbreak in a way that I've seen many people say "How does she even think of that?" Swift puts words into the mouths of the heartbroken who can't figure out how to say what they're feeling in this album and especially "All Too Well"'s ten-minute version. 
The short film accompanying this song, starring Sadie Sink and Dylan O'Brien, illustrated Swift and Gyllenhaal's short-lived love story in a way that helped understand the story of them that much more. The film, directed and written by Swift, includes what I believe to be a conversation Gyllenhaal and herself once had. Sink and O'Brien give amazing performances in their roles, and what I loved especially was the age gap between them to symbolize the real-life age gap between Gyllenhaal and Swift, drawing parallels to the lyric "You said if we had been closer in age maybe it would have been fine, and that made me want to die." Swift is portrayed by Sink, known for Stranger Things and Fear Street: 1978, and showed Swift's insecurities as always being the younger woman. At parties, she believed that every woman older than her was already superior to her, and in the party scene, Sink is shown moving back from everyone and simply using the party to admire the other women and mentally ridicule herself for not being their age. She does the same in the dinner scene, watching O'Brien converse with his much older and in her opinion, much better friends. All in all, "All Too Well (10 Minute Version)" was a beautiful addition to the album and has left fans satisfied as the version has been highly anticipated since its existence was found out.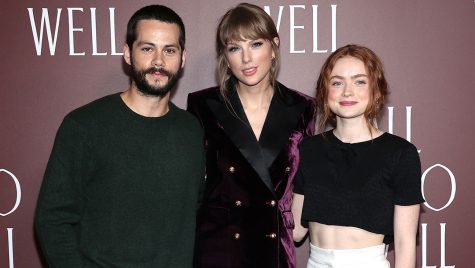 In addition to the ten-minute version of "All Too Well," eight more tracks from Swift's vault were added to the album. Two songs she wrote for other artists – "Babe" and "Better Man" – and six never before heard songs. She collaborated with others on the vault tracks for Red (Taylor's Version) much as she did for Fearless (Taylor's Version). Phoebe Bridgers, Chris Stapleton, and long-time friend and collaborator Ed Sheeran. Bridgers' collaboration on "Nothing New" had to have been my favorite vault collaboration. Bridgers and Swift's voices mixed perfectly together, and as a fan of both artists, it was so cool to get to see them make a song together. As for the other vault tracks, "Message In A Bottle" and "Forever Winter" had to have been my favorites right off the bat. They felt so Red-like and like they absolutely belonged there on the album already. They felt so familiar and for that, I applaud Taylor for choosing to include those.
Overall, Red (Taylor's Version) deserves a five-star ranking from me. There was not one song I didn't like on it and I gained a new appreciation for the album that I missed out on for so many years. Hearing some of my favorite childhood songs re-recorded and getting to listen to so many new ones was an incredible experience that I experienced with Fearless (Taylor's Version) and I can't wait to do it again with the next re-recording.