Perkins Restaurant Review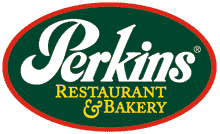 Zachariah Gunby
Oct 9, 2021
On Friday, October 8, I [Zachariah Gunby] went to Perkins along with another newspaper staff member, Turner Brown, in order to see what it is like to have a meal there. We went up there to see how good their food and service were in order to give feedback for the paper. 
When we got there we were seated in a booth near the kitchen. The waitress asked us what we wanted to drink. Turner got a diet coke and I got an orange cream soda which came out quickly. When asked if we were ready to order we told her we needed a couple more minutes. She came by a couple of minutes later and when we were about to tell her what we wanted another waitress came over her shoulder and asked her a question not regarding work matters and interrupting our order so that was a little awkward for both of us.
When it came to ordering we knew Perkins serves breakfast, lunch, dinner, and baked goods so we wanted to get something from the breakfast and dinner category. Turner ordered the breakfast meal on the menu called Triple Egg Dare Ya which consisted of eggs, bacon, french toast, and pancakes. I ordered the Chicken Strips Dinner Meal which consisted of chicken strips and 2 sides. For those sides, I got corn and french fries.
The food took 13 minutes to get to us after ordering and the restaurant was at half capacity. First, we decided to review the Chicken Strip Dinner Meal. The chicken strips were cooked to perfection and the honey mustard sauce was very good. The corn was also good but it did need salt. Lastly, the french fries were cooked nicely but had little to no salt on them so that was a little disappointing but overall I would rate the meal a 9/10.
Next, we reviewed the Triple Egg Dare Ya meal. Turner had ordered his eggs to be medium. They came to him undercooked which left him extremely disappointed. All of the bacon was cooked perfectly though besides one piece which was also slightly undercooked although the rest were not too crunchy yet not super flimsy. The pancakes were good as well but a little cold. The last thing left to try was the french toast. It was a little bland and had very little powdered sugar but overall was not too bad. Overall we would rate it 7/10
We did find one problem though. Towards the end of the meal, we found a piece of hair cooked into one of the pieces of french toast. Due to the fact that it was right at the end of the meal, we didn't end up talking to the manager about the problem so we didn't make it a huge deal. We were able to talk to the chef though who was apologetic about the situation. 
Overall, our waitress was really good about making sure our drinks were full and that we didn't need anything. After we were finished we discussed the problems and decided to rate the overall experience a 7/10. I think that the hair in the food was a problem, but it happens, so we took that into consideration but took in the rest of the experience as well and we had great service and food the food was good.