Loud & Proud
Competition cheer kicks off the season with win
To some people, cheerleading is just about putting your hair up in a bow and screaming chants for the football team. But there is much more to cheerleading than what some people can see.
Competition cheer can be more challenging than what a sideline cheerleader does, but it can also be rewarding.
"I like competitive cheer because when you are cheering on the sidelines, you are supporting your team and you can't showcase as many of your skills. In competitive cheerleading, you are doing it to show off all of the things you can do off of the sidelines and it gives you a chance to compete against other teams," junior Claire Johns said.
There are values you learn in cheer that you wouldn't be able to get anywhere else. The amount of effort and hard work that a cheerleader puts in is very important to her team because effort leads to a common goal that the team shares.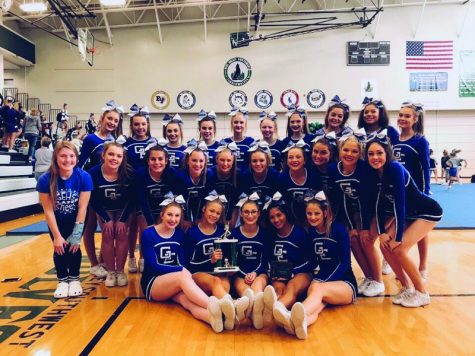 "I have helped them learn and master the different skills to bring their vision to life. Each practice, I strive to encourage the girls to push themselves to be better than they were the last practice," cheer coach Paige Shoemaker said.
You grow as a team when you spend long hours together, whether it be during a competition or just a normal practice. And not only do you grow as a team, you also grow as a person.
"After cheering for four years, I have definitely grown and have become a better cheerleader and a better person. I've seen a lot of different types of leaders throughout the years and I aspired to try to be the best leader that I could be," senior Jordyn Morrison said.
Along with hard work, it's important to grow as a team by enjoying each others company.
"We incorporate fun into our routines, but we also know when it's time to get down to business and work hard," Morrison said.
Hard work has paid off for the girls on their journey.
"My goal for this year was that these girls could have something to be proud of when they perform and all I know is that they have made me a proud coach each time they step on the mat," Shoemaker said.