IDs required
New security system calls for identification at the door
BUZZZZ. For students who are late to school, their alarm clock will not be the only thing buzzing.
The school installed a new security system, requiring anyone entering the building after 8 am to be "buzzed in" by the front office.
The system allows the school to more effectively keep track of everyone who comes in and out of the building throughout the school day and acts as an extra layer of protection.
"We were probably one of the last districts in our area to go to buzzer systems," Principal Mark Meyer said. "If I go visit a league school there is some formal check in process there that doesn't allow you instant access into the office there is always a buffer zone there, and that's kind of what this has become really."
Students and staff seem to have similar views as Meyer. "I feel like it's slightly inconvenient, however at the same it does keep the school a lot safer," said senior Kayla Brill Smith.
"I think it's a great system because it's the only way to truly secure the building" says Earth and Space Science teacher, Derrick Stockton."
Office Assistant Jennifer Miller is usually the one who communicates with people through the equipment and who lets someone in after they have given the proper identification.
"I think this is a great way to maintain control over who is here and why, and it will help to keep our school a more secure environment," Miller said.
Those entering the building will need to hold up an ID at about chest level.
"Holding it in front of your face is not helpful, as we need to see your face as well. Once we see the ID, we will buzz you in," Miller said.
Visitors to the building will also be required to give a reason for entry except on special occasions.
"On days where a special event is happening that is expected to draw many visitors, staff will be in the foyer handing out visitor stickers and letting parents know where to go," Miller said.
When entering a building people will typically hold the door open as a common courtesy to others.
According to Milller "although it may seem helpful, it is important that office staff processes them in correctly."
If you have pushed the button and are waiting to be let in, sometimes you need to be patient. "Most of the time we get to it immediately, however if staff is on a phone call, it may take a minute or two," Miller said.
About the Writer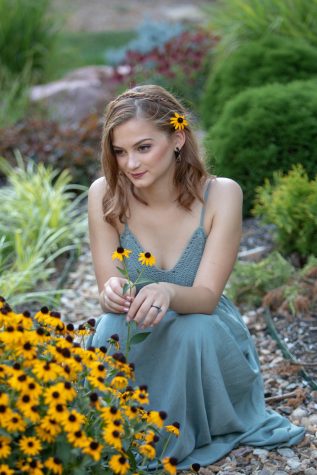 Serenity Stafos, Staff Writer
My name is Serenity Stafos and I'm a senior at Gardner Edgerton High School. Some of my passions are baking, geology, and studying diets. My plans for...