The art of makeup
Senior shares her passion for makeup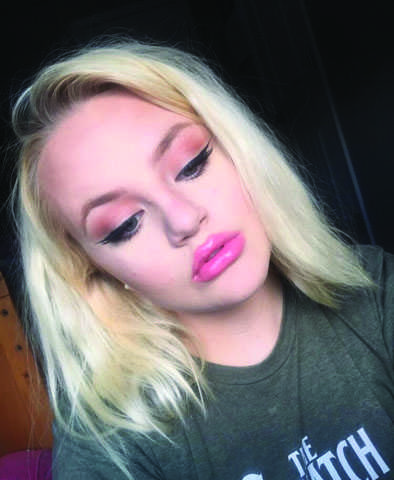 Sitting in her sophomore English class, Lizzie Crawford picked up a talent many girls strive for in today's culture; the art of makeup.
"There was this girl in my sophomore English class and I thought she was so pretty, she was the first person that I actually took notice of the contouring and highlighting technique." Crawford said.
After school that day, Crawford searched the internet to see what kind of information she could find on makeup and techniques.
"I went home and googled how to do makeup and I binge watched so many makeup tutorials on Youtube that year. That's how I got into the makeup culture." Crawford said.
Crawford starts every morning with a set routine.
"I first start out with moisturizing my face, and then I do my eyeshadow/eyeliner, then I prime my face and apply foundation." Crawford said.
"After all of that, I set everything with powder and then I bronze. Next thing I do is contour, apply blush, highlight, and then do my brows. I then go back and apply my falsies/put mascara on." Crawford said.
Crawford finishes up her look with two last things.
"The last thing I do is apply lip liner/lipstick and set everything with a setting spray," Crawford said.
It takes about forty minutes to an hour for Crawford to finish her look of the day.
Makeup prices have continually been rising as the makeup society continues to grow. To keep from spending too much money, Crawford limits herself to buying only every few months.
"I buy makeup every 3-4 months and spend about $200 in total, sometimes more if a new makeup palette comes out," Crawford said.
When it comes to the makeup lifestyle, there is often common questions tied into do's and dont's. Crawford shared her favorite stores and makeup products, exclusive tips and tricks, and additional advice she has for makeup newbies.
Makeup tips, tricks, and favorites from Lizzie Crawford
Q: Does primer make a difference?
A: Yes! Primer makes makeup last longer and make it go on much smoother.
Q: Which is better Sephora or Ulta?
A: Ulta is Crawford's go to place because of their reward system and the employees are always nice.
Q: Is name brand makeup really better than drugstore makeup?
A: The only noticeable difference Crawford sees in drugstore makeup and brand makeup is the foundation. As the day goes on, sometimes drugstore foundation makes her skin look blotchy and it does not last as long.
Q: What's the best makeup remover?
A: Garnier's Micellar water with a cotton pad works best for Crawford.
Q; What Inexpensive brands do you recommend?
A: ColourPop, Makeup Geek, Morphe, NYX, Milani, E.L.F.
Q: What is your biggest piece of advice?
A": "PRACTICE PRACTICE PRACTICE! Anybody can become an expert on winged eyeliner if they keep trying a new technique if it doesn't work the first try!"