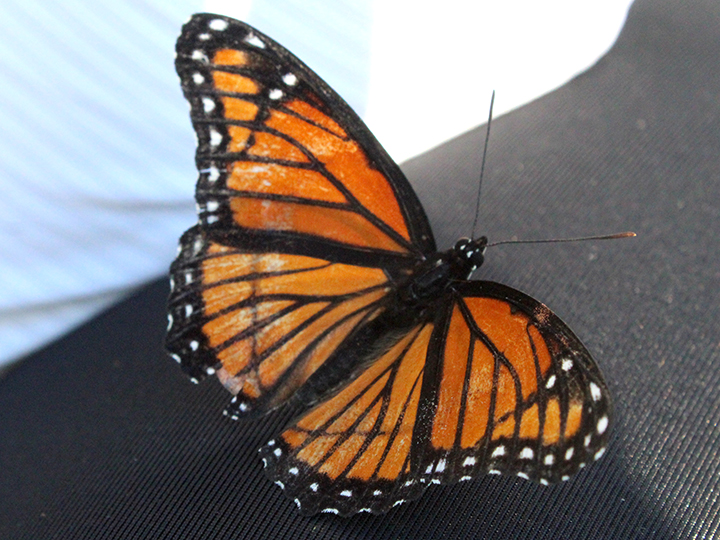 Madeline Clark
Mr. Aaron Batterbee and the field biology classes have planted a new garden just outside the ATC building. This new addition to the campus is intended for pollinating insects, like bees and butterflies.
"I've wanted to have a pollinator garden," Mr. Batterbee said. "Butterflies and bees and insects get a bad rep." 
The garden has been planted by students in Mr. Batterbee's field biology classes. The plants currently in the garden are all native grasses and flowers to Kansas wildlife. As of October 11th, the garden is only 80% finished, with a promising future ahead.
"Every class has loved it, every class that I taught, if I said 'Let's go out and plant this,' they wanna go out," Mr. Batterbee said.
For Mr. Batterbee, the future of the garden is a place of respite and learning. From his perspective, in all the hustle and bustle of daily life, we don't leave any time for ourselves. Mr. Batterbee wants to change this.
"We're getting kids outside," Mr. Batterbee said. "Everybody's inside with a mask on, and I know how that makes people feel…I just want it to be a place where you can go and forget about those kinds of things." 
GEHS did not finance this project by themselves. It was funded by a grant called "Contain the Rain," an initiative by the Johnson County Stormwater Management. Chris Cardwell, an urban conservationist for Miami and Johnson counties, assisted with putting the plan in motion. After securing the funding, Mr. Batterbee worked with Mr. Cardwell to create designs for the garden and organize getting the plants. 
Along with the help of Mr. Batterbee's field biology classes, Mr. Robert Barnhill helped plant the grasses and flowers. The science department as a whole worked together to make the ideas real.
"Mr. Batterbee brought me into the idea and I absolutely loved it because I really enjoy plants," Mr. Barnhill said, "I've worked for nurseries for many years in the past." 
Mr. Batterbee is not alone in his enjoyment of nature. The desire to raise awareness of the role plants play in the environment is shared by Mr. Barnhill as well.
"I want them to…understand the importance of having plants around," Mr. Barnhill said. "The fact that it will help the diversity of the ecosystem, and I think it's gonna be a great learning experience, as well." 
The opportunities that the garden will offer for the students today and in the future are in the works yet. For students now, the Field Biology classes got a chance to experience the outdoors and nature for themselves.
"There's magic in dirt," Mr. Batterbee said. "There are things in dirt that when your hands are in it, it just makes you feel better."
Mr. Batterbee hopes the garden will be a great space for outdoor teaching, rest, and social opportunities. The garden can be visited any time, located between the ATC and Madison Street.