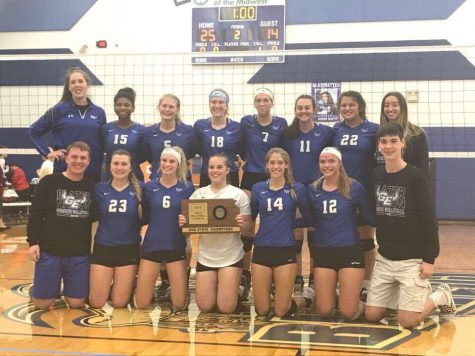 The Varsity Volleyball team had a winning season which led them to state for the first time since 2012, the team ended the season 29-10.
The Blazers beat Junction City and Liberal to become Sub State Champions and to secure their spot in state.
"It feels awesome to be going to state. It's our last school season together and it just feels right that this year we are going to state," senior Amber Mott said.
The team took 11 players, 2 managers, and 2 coaches to State.
The team consists of players from each grade level. There are two freshmen, Jaylene Bell and Erin Michael. As well as two sophomores, Kendra Wait and Jordan Boone, and two juniors, Morgan Mcintire and Holly Maska. Also, five seniors, Amber Mott, Emma Prothe, Kyla Shappell, Gabbie Bishop, and Audrey Hamilton.
"It's an awesome experience to have a great volleyball team like we have, being taken under all the upperclassmen wings and having such an amazing bond with them is the best feeling in the world," freshman Jaylyne Bell said.
Every team was guaranteed three games in the state tournament. The state tournament lasted two days, Friday and Saturday. Teams had to win at least 2 out of the 3 games to move on to Saturday.
The Blazers took on Blue Valley in their first match during state  and fell short 16-25 and 24-26. The ladies had a two game break and then took on Lawrence High, falling to them in two sets 16-25, 16-25. Lawrence then went on to win State. The Blazers then played Blue Valley West and finished their season off with a win, defeating them 25-16, 22-25, 26-24.
The team ended the season with a big win over Blue Valley West! "It was exciting yet sad. I was so happy that we ended the season with a win but then the crowd did the 'Thank you Seniors' cheer and I realized that that was my last time playing in high school with my team," senior Gabbie Bishop said.
Students were allowed to ride a Spirit Bus to the games on Friday during school hours to go support the team. There are many things to take into consideration when planning a Spirit Bus.
"The first step to setting up Pep Buses is to make sure that you can find a faculty member to sponsor each bus. Step two is to then offer to students the opportunity to sign up," Athletic Director John Sedler said.
Once there is an approximate number of students committed to travel to the event, they can then secure the appropriate number of buses and faculty sponsors.  There were 3 buses that traveled to state with 142 students total.
Students were also allowed to drive themselves, but they had to have a parent call them in and also had to check in with admin when they arrived in Salina. This absence does not count against students when it comes to finals.
"It was an incredible feeling knowing that all those people were rooting for us. Even though it didn't end up like we wanted it to it was still nice to end out season with a win and with the school supporting us the whole time," senior Kyla Shapell said.